Nearby Attractions
"where dinosaurs roam"
The Granger Dinosaurs
The dinosaur project was physically started around April 1994.
The idea was actually mentioned a couple years earlier at a community planning meeting. At those meetings the agenda was to create a community theme and come up with something to revitalize our Main Street and downtown area. Several ideas were offered, a Spanish/Mexican theme, historical preservation with the old brick buildings etc…
In the early part of 1994, the Town's Public Works Department was given the challenge of producing something along the lines of a dinosaur theme. The Public Works crew was in varying degrees responsible for the community float which had taken top honors all over the Northwest for three-four years prior, so this project was well suited for their abilities.
The first dinosaur constructed was the baby brontosaurus. Public Works experimented with the construction process and has very much refined the steps in completing one of these creatures.
As of 2019, the City of Granger is home to 33 dinosaurs.
Join us, the first Saturday of June, each year at Hisey "Dinosaur" park for Dino-n-a-Day, and help create the newest member of the Granger dinosaur family.
Last year's Dino-n-a-Day was completed June 2, 2018. The Dinosaur created was a Megalosaurus and it (and last year's Megalosaurus)  are going to replace the dinosaurs at the entrance into Granger by the park.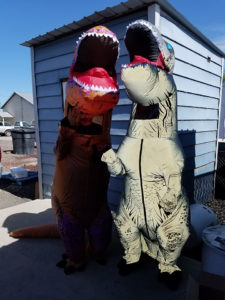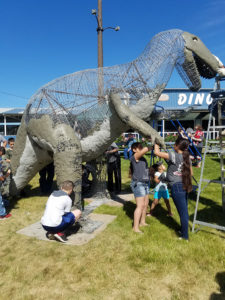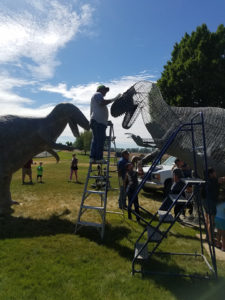 Dino Drive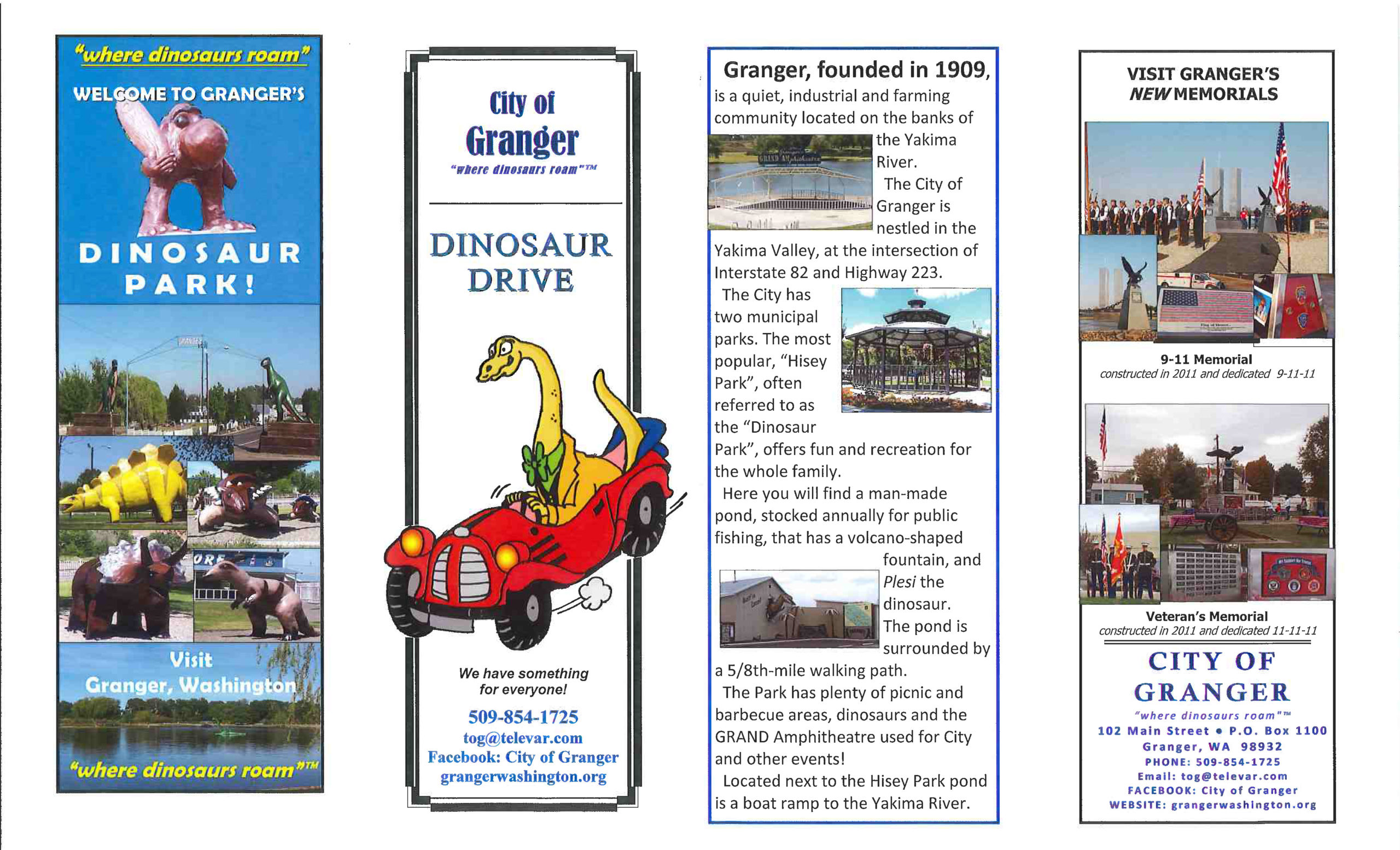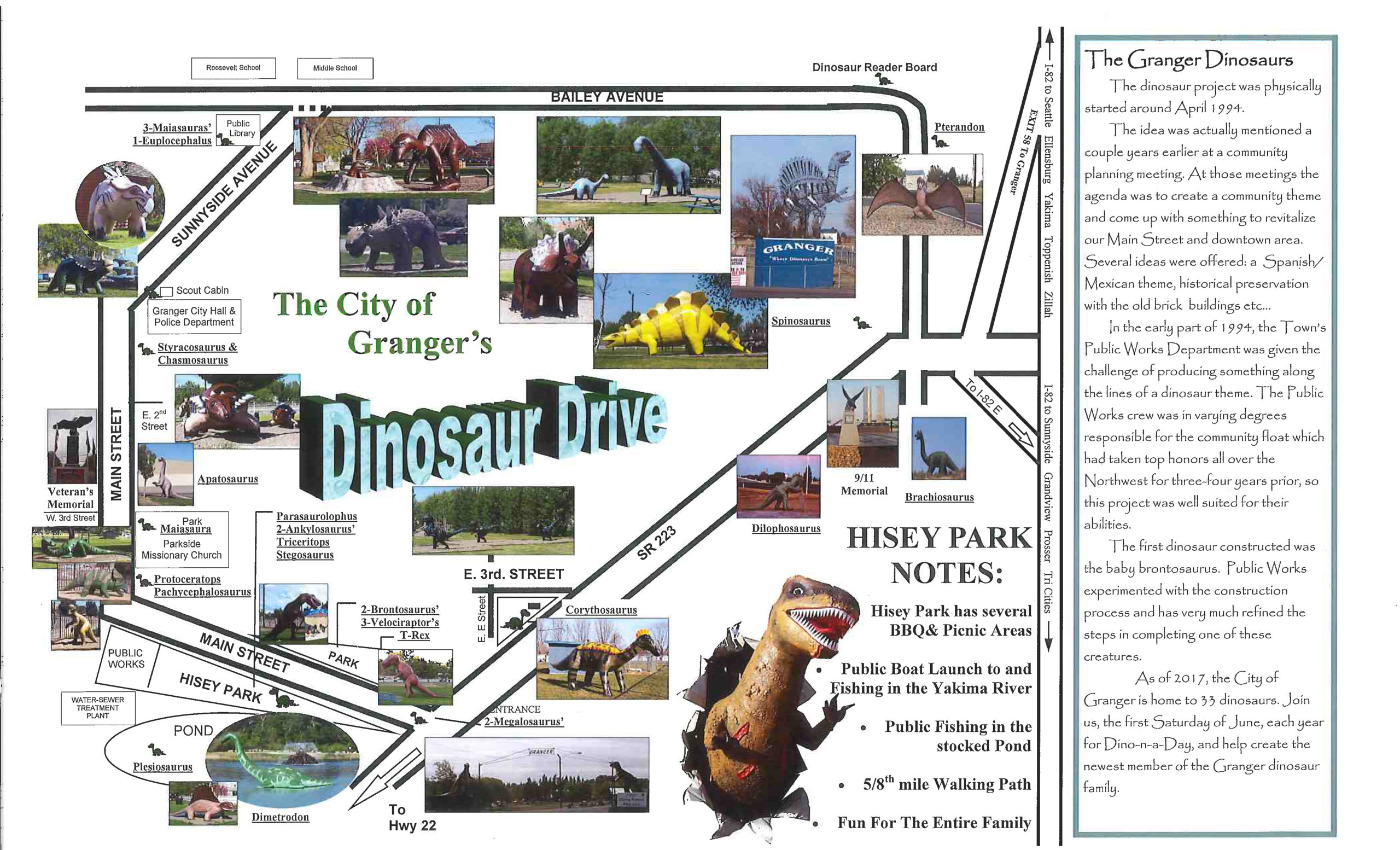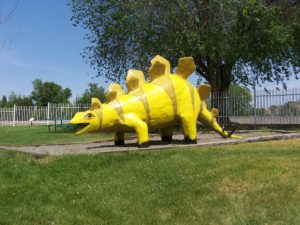 Stegosaurus is located at Granger Hisey Park where many other dinosaurs reside as well. This was a 1994 Dino-N-A-Day addition.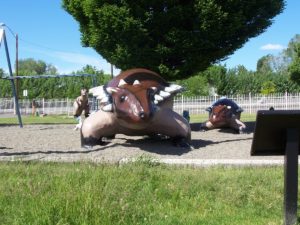 This Ankylosaurus family can be found at Granger Hisey Park. They were part of the 1994 Dino-N-A-Day addition.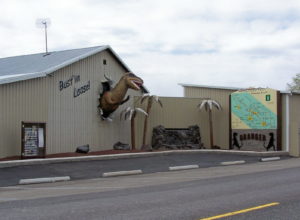 Tyrannosaurus Rex is located at the Granger Public Works shop. This was the 1995 Dino-N-A-Day addition.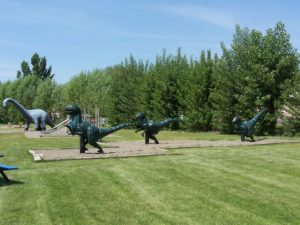 Velociraptors are located at Granger Raptor Park. They were the 1996 Dino-N-A-Day addition.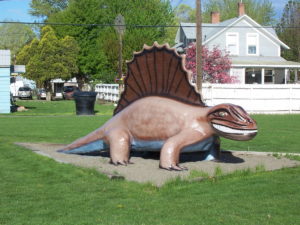 Dimetrodon is located at Granger Hisey Park, however, this picture was taken at his original stomping grounds (Granger Veteran's Memorial Park) from which he later re-located. This was a 1997 Dino-N-A-Day addition.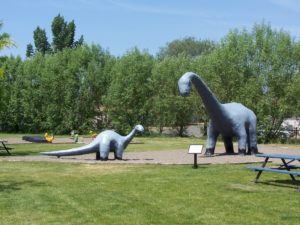 This Brontosaurus family can be found at Granger Raptor Park. They were the 1998 Dino-N-A-Day addition.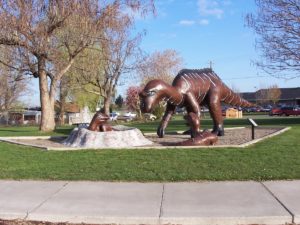 The Maiasaura family can be found at the Granger Public Library. They were the 2003 Dino-N-A-Day addition.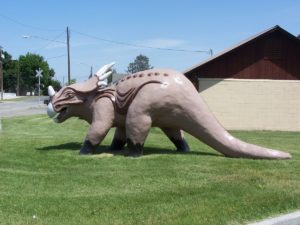 Styrocosaurus can be found outside of Granger City Hall. This was a 2004 Dino-N-A-Day addition.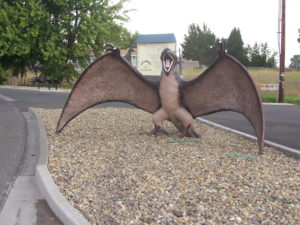 Pterandon is located near the main entrance into the City of Granger. This was a 2007 Dino-N-A-Day addition.
Granger Brick Memorial and Mini Library
In October 2007, the Granger Middle School's leadership class took on a Community Beautification Project led by Mrs. Christina Alaniz. After receiving City Council's approval to utilize the space where City Hall once stood, prior to the 1995 fire, the young volunteers cleaned the space and the project was soon underway.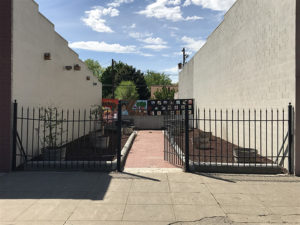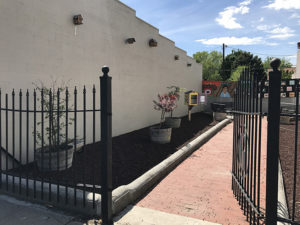 The group painted a mural in the space and sold bricks with the option to have them engraved with names, last names, etc. These bricks were then strategically placed on the walk way, with the assistance of Granger's Public Works crew.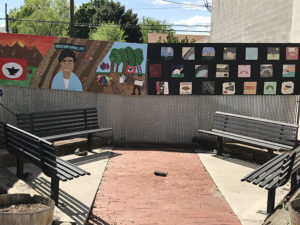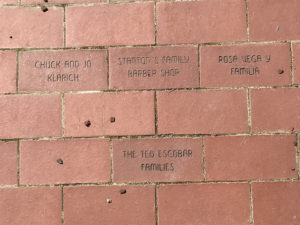 This mural currently sits in between a health clinic and a dance hall venue, at 109 Main Street, Granger, WA 98932.
Later, in July 2013 the Granger Middle School PTO President Monique Marines, presented the request to place a "free mini library" at the Brick Memorial Park. This mini library allows the general public to take, add, or replace books.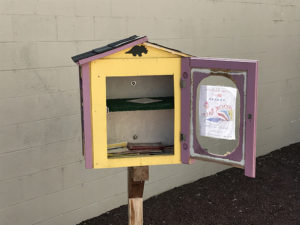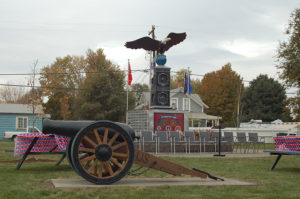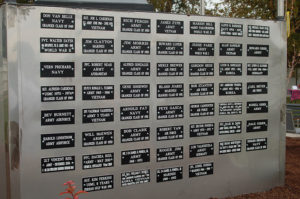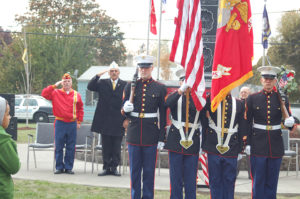 The Veteran's Memorial is located at 119 Main Street, Granger, WA 98932. You may purchase a nameplate that will be displayed at the Veteran's Memorial site in a prime location for all to see and to remember by completing Nameplate Purchase Form. You can pay for the plaque in person at Granger City Hall, 102 Main St., Granger, WA 98932 OR download the form and mail it along with a $10.00 payment to: City of Granger, P.O. Box 1100, Granger, WA 98932.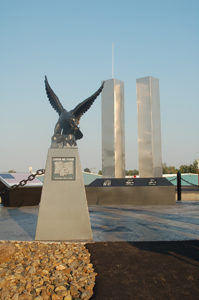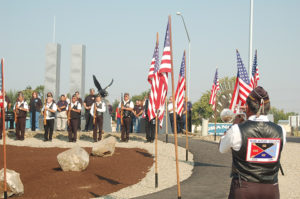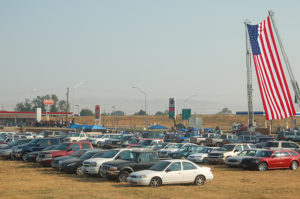 The 9/11 Memorial is located on Bailey Ave/HWY 223, next to the Granger Travel Plaza. The 9/11 Memorial was constructed by the City of Granger Public Works staff members. View the Memorial Dedication Program
Granger — Thumbnail History
HistoryLink.org Essay 10450 : Printer Friendly Format
Granger, located between Zillah and Sunnyside in the Yakima Valley, was named for Walter Granger (1855-1930), who helped irrigate and promote the region beginning in the 1890s. The town incorporated in 1909, and in recent years has become known as the place "where dinosaurs roam."
An Oasis in the Desert
For centuries, Yakama Indians camped near the confluence of Satus Creek and the Yakima River, a few miles southeast of what is now Granger. After the tribe was forced to cede its lands when its leaders reluctantly signed the 1855 Walla Walla Treaty, tribal members moved onto the Yakama Reservation. This opened up the Yakima River valley for settlement.
In the 1870s, the Northern Pacific Railway arrived on land granted to it by the federal government. The grant stipulated that five years after the completion of the transcontinental line, the land would be sold, in order to spur settlement. In the Yakima Valley, the Northern Pacific right-of-way approximately paralleled the Yakima River, on dry desert land — an ecological region technically known as shrub-steppe and dominated by big sagebrush and bluebunch wheatgrass. It was a landscape ripe for irrigation.
In the 1890s, work began on the Sunnyside Canal, an irrigation project begun by Walter Granger and a group of St. Paul, Minnesota, investors. Their corporation — the Yakima Land and Canal Company — scouted for townsites while the canal was being dug. Zillah was founded in 1892, and Sunnyside a year later. Granger and his new bride, Maud Thomas, made Zillah their home.
A Town Is Born
In 1904 the newly formed Granger Land Company established a new town midway between Zillah and Sunnyside, which they named Granger. Thanks to an aggressive ad campaign in Seattle, Tacoma, and Spokane newspapers, scores of people bought homes in Granger. Some of the new residents opened businesses.
Within a few years the town had shops, clothing stores, a hardware store, a bank, a hotel, saloons, a meat market, a bakery, a cannery, a photo gallery, and more. By the end of the decade, Granger had enough residents to incorporate, which it did on September 28, 1909. The first child born in the newly incorporated city was named Walter Granger Nelson. Walter Granger himself presented the baby with a silver engraved cup and spoon.
Bricks and Farms
During its first year after incorporation, Granger gained more than 200 new residents. Many of them were families, and this necessitated the construction of a new four-room schoolhouse, which the town quickly outgrew. A few years later a new high school was built.
Steady work could be found at the Granger Clay Products Company, which had opened a brickyard in 1903. Other newcomers found plenty of available jobs at local farms, which produced asparagus, potatoes, wheat, fruit, beets, hops, and more. Cherries were a popular crop, and Granger later adopted this fruit as its emblem. The town still holds its annual cherry festival every spring.
Other farms bred livestock, and herds of cattle were raised for milk or for meat. Sheep were also popular, and were pastured throughout the valley. Occasionally the sheep caused problems, as when the herd wandered onto train tracks or highways, sometimes causing accidents.
Fighting Depression
Like many rural cities, Granger fell upon hard times during the Great Depression. One bright spot during those years came from Clay Bell, owner of the Granger Hardware and Furniture store, and also a Justice of the Peace. Bell offered "Guaranteed Weddings" for 39 cents, a stunt which got written up in the pages of Readers Digest. Couples came from miles around for these bargain nuptials.
In 1938, the townsfolk organized a fire department, which had previously been all-volunteer. Granger already had fire hydrants, but nearly half of them were defective. The new fire department fixed the hydrants and bought a fire truck.
The following year, Granger received a big boost when the federal Works Progress Administration (WPA) approved funding to pave the town's streets. Some $21,000 was spent on the project, and the choking dust stirred up by local drivers became a thing of the past.
The War and Beyond
In 1942, the Granger bridge spanning the Yakima River collapsed, creating a serious problem for those wishing to enter or exit the city from the south. Because of wartime shortages, only material salvaged from demolished bridges could be used to create a replacement. A temporary bridge was built, but its low speed and weight restrictions — and narrow roadway — vexed drivers for 25 years. A concrete span was built in 1967.
During World War II, many of Granger's young workers joined the armed forces, creating a labor shortage on local farms. In 1942, more than 500 Mexican nationals arrived in the Yakima valley under the federal Emergency Farm Labor program — also known as the Bracero program.
Some of these migrant workers later became citizens, as did family and friends who followed them. Latino settlement flourished in Granger, and today (2013) the town's population is almost 90 percent Hispanic.
A Town Revitalized
After the brickyard closed in the 1960s due to a depleted clay supply, Granger began to fall on hard times. Also, less work was available on farms. By the 1980s Granger was one of the poorest towns in the state. It was also one of the youngest towns, because of the number of large Hispanic families. In 1990, Granger had 2,053 residents, with a median age of 24.1 years.
More and more people were visiting the Yakima Valley due to its burgeoning wine industry, and  Granger sought a way capitalize on the tourism. Decades earlier, woolly mammoth bones and tusks were unearthed in one of the clay pits, so town officials chose a dinosaur theme to promote their community. Beginning in 1994, townsfolk built dinosaurs out of wire mesh and concrete, and placed them throughout Granger. Each year they add one more during the Dino-in-a-Day festival.
The theme worked, and Granger is now known as the town "where dinosaurs roam." Hisey Park alone has more than two dozen dinosaur statues, and in 2010, the town dedicated a new amphitheater there for community gatherings. The park's restrooms are shaped like volcanoes.
Sources:
W. D. Lyman, History of the Yakima Valley, Washington, Vol. 1 (Chicago: S. J. Clarke Publishing Co., 1919); The Granger Library Club, Granger: The Town, The Land, The People (Walla Walla, Saxum Publications, 1975); Harriet Baskas, Washington Curiosities, 3rd: Quirky Characters, Roadside Oddities & Other Offbeat Stuff  (Guilford, Connecticut: Globe Pequot Press, 2011); "The Town of Granger Is Only a Baby But Has Corralled Three Railroads" (newspaper ad), The Seattle Times, September 26, 1909, p. 28; "Has Dinosaur Theme Run Amok?," Ellensburg Daily Record, May 24, 2001, p. A-8; "Young People Share the Streets with Dinosaurs in Granger," Ellensburg Daily Record, December 5, 1994, p. 7; "Granger Brickyard Is One of Yakima Valley's Hidden Stories," Yakima Herald-Republic, September 30, 2012, p. A-1.
As of the census of 2010, there were 3,246 people – in 2016, there are 3,880 people – 774 households, and 675 families residing in the city. The population density was 1,813.4 inhabitants per square mile (700.2/km2). There were 813 housing units at an average density of 454.2 per square mile (175.4/km2). The racial makeup of the city was 48.6% White, 0.4% African American, 1.7%Native American, 0.5%Asian, 46.9% from other races, and 1.9% from two or more races. Hispanic or Latino of any race were 88.2% of the population.
There were 774 households of which 66.3% had children under the age of 18 living with them, 60.2% were married couples living together, 17.6% had a female householder with no husband present, 9.4% had a male householder with no wife present, and 12.8% were non-families. 10.5% of all households were made up of individuals and 4.5% had someone living alone who was 65 years of age or older. The average household size was 4.14 and the average family size was 4.41.
The median age in the city was 22.2 years. 43% of residents were under the age of 18; 11% were between the ages of 18 and 24; 26.4% were from 25 to 44; 14.9% were from 45 to 64; and 4.8% were 65 years of age or older. The gender makeup of the city was 50.5% male and 49.5% female.